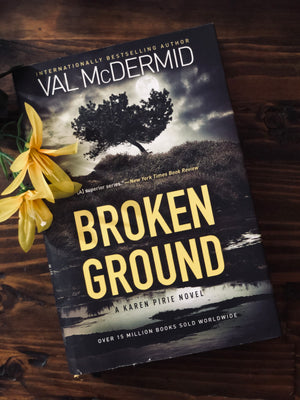 Broken Ground- By Karen Pirie
Internationally bestselling author Val McDermid is one of our finest crime writers, and her gripping, masterfully plotted novels have garnered millions of readers from around the globe. In Broken Ground, cold case detective Karen Pirie faces her hardest challenge yet. 
Six feet under in a Highland peat bog lies Alice Somerville's inheritance, buried by her grandfather at the end of World War II. But when Alice finally uncovers it, she finds an unwanted surprise―a body with a bullet hole between the eyes. Meanwhile, DCI Pirie is called in to unravel a case where nothing is quite as it seems. And as she gets closer to the truth, it becomes clear that not everyone shares her desire for justice. Or even the idea of what justice is.
Hardcover/Very Good