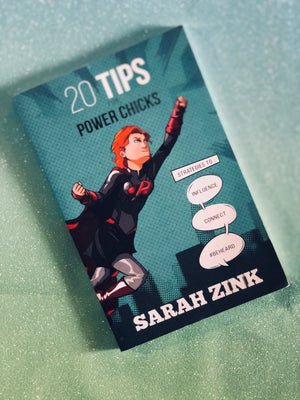 20 Tips for Power Chicks- By Sarah Zink
20 Tips for Power Chicks is an in-depth look at how women sabotage themselves in the business world and how they can become more professional, efficient, and increase their productivity.
Women are powerful, intelligent, and incredibly talented people by nature. When they develop a deeper understanding of what it takes to succeed in business and in life, they are unstoppable.
With cover art by Denise Duke and edited by Jennifer-Crystal Johnson, this book is a must-read for any woman who wants to increase her success.
Here's some advance praise for 20 Tips:
"Sarah Zink's book, 20 Tips for Power Chicks, is a good investment of time. And speaking of time, Zink's chapter on time management is my favorite one in this well-crafted and smart book. I plan on giving a copy to each of my daughters who will benefit greatly from Zink's insight and tips."
"20 Tips for Power Chicks provides great strategies that every woman can implement to succeed and thrive, not just in business but in life. You now have the tools to get from where you are to where you want to be!"
Softcover/Very Good