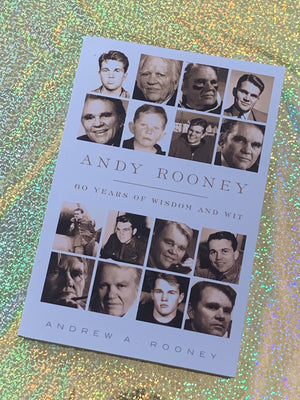 Andy Rooney: 60 Years of Wisdom and Wit- By Andrew A. Rooney
Andy Rooney is a classic chronicler of America and her foibles. Over more than six decades of intrepid reporting and elegant essays, Rooney has told it to us straight and without a hint of sugar coating, but with more than a grain of truth and humor.

Andy Rooney: 60 Years of Wisdom and Wit brings together the best of more than a half-century of work (including long-out-of-print pieces from Rooney's early years) in an unforgettable celebration of one of America's funniest men. With selections from his beginnings as a correspondent for The Stars and Stripes during WWII to his arrival at CBS to his more than thirty-year stint on 60 Minutes, this book is a must-have for any Rooney fan.
Softcover/Very Good