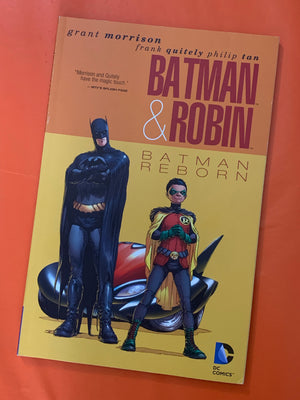 Batman & Robin: Batman Reborn- By Grant Morrison, Frank Quitely, and Philip Tan
The Dark Knight has fallen, sacrificing himself in the Final Crisis to defeat the ultimate evil. Tim Drake has laid down the mantle of Robin to search the world for a sign that his mentor can be brought back from oblivion.
Now there's a new Dynamic Duo in town.
Dick Grayson, the original Robin, has taken up the cape and cowl of his former partner, and Damian Wayne, the assassin-raised son of Bruce Wayne, has become a deadly new Robin — ready to fight crime by any means necessary. Together, this masked Odd Couple must stop a rising tide of villainy whose savagery and brutality are unlike
anything Gotham City has ever seen.
They must also overcome a lethal pair of rival vigilantes with ties to their own tragic pasts — and stay away from each other's throats long
enough to succeed.
This volume collects Batman & Robin #1-6.
Softcover/ Like New