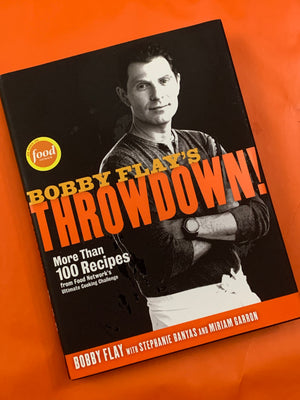 Bobby Flay's Throwdown *Signed Copy*
Are you ready?
 
Every week on Throwdown!, celebrity chef and restaurateur Bobby Flay goes head-to-head with cooks who have staked their claim as masters of an iconic dish—buffalo wings, chicken cacciatore, or sticky buns, for example—even though he may never have cooked these things before. The results are always entertaining—and delicious. In his first-ever cookbook collaboration with Food Network, Bobby shares the recipes and fun from his popular show.
 
For each episode, both Bobby's recipe and his challenger's are included, comprising a cross-country tour of regional specialties and good-hearted competitive spirit. Travel to San Antonio for puffy tacos, Philadelphia for cheesesteaks, Harlem for fried chicken and waffles, and Charleston for coconut cake. Try both dishes to pick your favorite, or challenge friends and family to a battle of your own. Either way, you'll find tons of fantastic flavors in this best-of-the-best book from the first seven seasons of Throwdown!.
 
The ultimate companion cookbook to one of America's favorite food shows, Bobby Flay's Throwdown! lets home cooks and fans in on the action, featuring favorite Throwdown! moments and behind-the-scenes peeks alongside beautiful, all-new color food photography created just for this book. So if Bobby Flay ever strolls into your backyard asking "Are you ready for a Throwdown?" you definitely will be!
Hardcover/Very Good *Signed Copy*
*textured coating rubbed off in small patches on cover, otherwise like new.