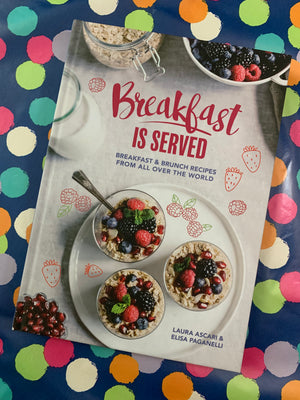 Breakfast is Served: Breakfast & Brunch Recipes From All Over The World- By Laura Ascari & Elisa Paganelli
Discover breakfast and brunch recipes from across the globe with this delightful collection of recipes for the most important meal of the day.

Forget your poached eggs and avocado on toast, this cookbook will inspire you with new breakfast and brunch recipes from around the world. From Canada for Pumpkin Pie and Ecuador for Bolon de Verde, to Lebanon for Labneh and Germany for Pumpernickel, these recipes take inspiration from the four corners of the globe to make sure your weekend breakfasts and brunch is never the same again. Learn how to make the perfect Pain au Chocolat, delight your friends with colorful doughnuts, or indulge in comforting Miso Soup.

From a sociable brunch with friends to the ultimate hangover cure, meals to fill you up all day or indulgent sweet treats, there's a recipe here for every morning occasion, all accompanied by gorgeous photography of the finished dish.
Hardcover/ Like New