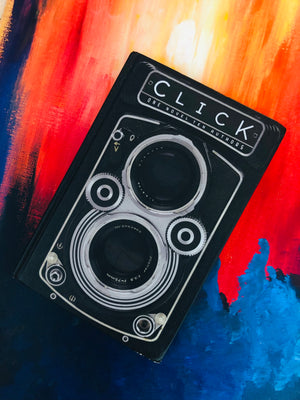 Click- One Novel Ten Authors
A camera.
Some photographs.
A box with seven shells.
And many mysteries.

Those are the things that Maggie and Jason inherited from their grandfather, the famed photojournalist George "Gee" Keane. Gee traveled from Ireland to Russia, Japan to Australia, taking pictures of people at work, at war, in sports, and at play. Now Jason receives Gee's photographs and camera--though he has no idea what to do with them. And Gee leaves Maggie with the puzzle of the seven shells--one that might take her whole life to solve. As Maggie and Jason use these gifts, they will discover all the people their grandfather was...and all the people they might yet become.

Ten bestselling, award-winning authors unite for a novel of brilliant writing, global adventure, and constant surprise. 
Hardcover/Very Good