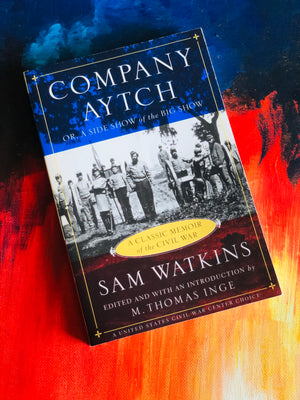 Company Aytch by Sam Watkins
Told from the point of view of an ordinary foot soldier, this personal memoir has been hailed as one of the liveliest, wittiest, and most significant commentaries ever written on the Civil War.

Among the plethora of books about the Civil War, Company Aytch stands out for its uniquely personal view of the events as related by a most engaging writer—a man with Twain-like talents who served as a foot soldier for four long years in the Confederate army. 

Samuel Rush Watkins was a private in the confederate Army, a twenty-one-year-old Southerner from Tennessee who knew about war but had never experienced it firsthand. With the immediacy of a dispatch from the front lines, here are Watkins' firsthand observations and recollections, from combat on the battlefields of Shiloh and Chickamauga to encounters with Stonewall Jackson and Robert E. Lee, from the tedium of grueling marches to the terror of fellow soldiers' deaths, from breaking bread with a Georgia family to confronting the enemy eye to eye.
Softcover/Very Good