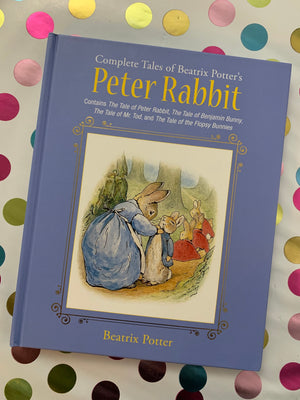 Complete Tales of Beatrix Potter's Peter Rabbit- Beatrix Potter
The basis for the 2018 film, Peter Rabbit has been hailed as one of the bestselling stories of all time and has been adapted into countless mediums, including books, films, board games, coloring books, and more. The original story features a young rebellious rabbit who, despite his mother's wishes, enters the dangerous garden of Mr. McGregor to feast on its endless bounty. From there on out, he gets himself into all kinds of trouble.

Originally published as separate stories throughout the early twentieth century, The Complete Tales of Beatrix Potter's Peter Rabbit contains all four stories featuring the famous bunny, including The Tale of Peter Rabbit, The Tale of Benjamin Bunny, The Tale of Mr. Tod, and The Tale of the Flopsy Bunnies.

Featuring all of the original illustrations by Beatrix Potter enhanced and re-formatted, follow the exciting adventures of Peter Rabbit and some of his most famous furry friends.
Hardcover/Very Good