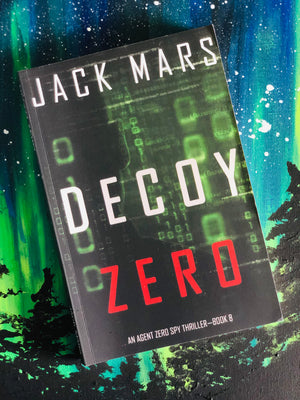 Decoy Zero, An Agent Zero Spy Thriller-Book 8 by Jack Mars
"You will not sleep until you are finished with AGENT ZERO. A superb job creating a set of characters who are fully developed and very much enjoyable. The description of the action scenes transport us into a reality that is almost like sitting in a movie theater with surround sound and 3D (it would make an incredible Hollywood movie). I can hardly wait for the sequel."
--Roberto Mattos, Books and Movie Reviews
DECOY ZERO is book #8 in the #1 bestselling AGENT ZERO series, which begins with AGENT ZERO (Book #1), a free download with nearly 200 five-star reviews.
A new, high-tech railgun is invented, with a capability of firing an indefensible missile, seven times the speed of sound—and the fate of America is at risk. Who or what is the target? And who will be behind its launch?
In a mad race against time, Agent Zero must use all of his skills to track down the source of this unstoppable weapon and figure out its destination before it is too late.
Yet at the same time, Zero learns of a shocking new development in his mental condition, one that might sideline him for good. Can he save the world—and can he save himself?
DECOY ZERO (Book #8) is an un-putdownable espionage thriller that will keep you turning pages late into the night.
"Thriller writing at its best."
--Midwest Book Review (re Any Means Necessary)

Condition: Very good/Paperback