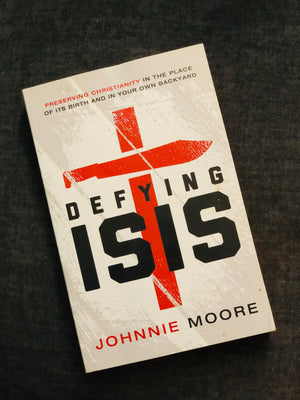 Defying Isis by Johnnie Moore
Has a Christian Holocaust Begun? 
A Christian genocide at the hands of Islamic extremists is unfolding in the Middle East. Entire Christian populations have been eliminated, and the ultimate aim of ISIS is to eradicate the world of Christianity.
They are well on their way.  Thousands of Christians arrive in refugee camps daily as tents can be seen for miles across the countryside of Jordan, N. Iraq and Lebanon.
Churches have been demolished, crosses burned and replaced with ISIS flags, homes destroyed, entire communities displaced, religious conversions forced, human torture enacted, children slaughtered, and all in plain sight.
Condition: Very good/Paperback
Religion