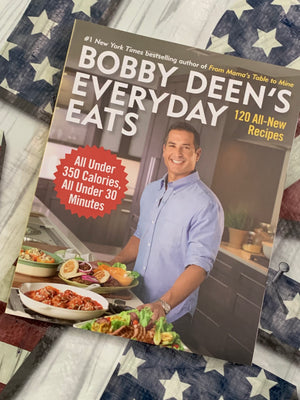 Everyday Eats- By Bobby Deen
Bobby Deen's life has always revolved around food—especially good Southern fare. But he knows that with a busy lifestyle in and out of the kitchen, finding the time to make delicious, nourishing meals can be tough. Just because your schedule is overstuffed doesn't mean your belly has to be. Now, in Bobby Deen's Everyday Eats, Bobby helps you get a tasty and good-for-you dinner on the table in no time flat, with dozens of delectable recipes all under 350 calories and all prepared in less than 30 minutes.
 
Whether it's salads and soups that make hearty suppers, lip-smacking dishes for midweek grilling, meatless main courses for watching your waistline, scrumptious sides for every season, or reduced-calorie sweet treats to cap off your meals, Bobby Deen's Everyday Eats includes such satisfying recipes as
 
• Light and Easy Scallops and Grits • Deviled Egg Salad • Lightened-Up Beer Cheese Soup • Peachy Pulled BBQ Chicken • Mustard-Rubbed Flank Steak • Grilled Whole-Wheat Flatbreads • Shrimp Coconut Curry • Cajun Ratatouille Bake • Creamy Spinach Polenta • Hot Roasted Green Beans with Sweet Chili • Zucchini Corn Fritters • Strawberry Angel Food Cake • Lighter Chocolate-Mint Shakes • and so much more!
 
Bobby also serves up time- and money-saving tips for stocking your fridge and pantry, ideas for watching your calories when you go out to eat, and a weekly 1500-calorie-a-day menu plan that helps you pull it all together. He even includes nutritional information for each and every recipe. Bobby Deen's Everyday Eats is the cookbook you'll reach for night after night for meals that are quick, delicious, and best of all . . . good for you.
Softcover/Like New