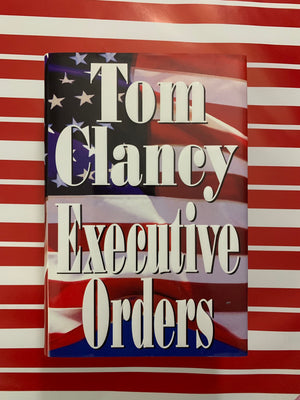 Executive Orders- By Tom Clancy
The President is dead. Now, the weight of the world falls on Jack Ryan's shoulders in this extraordinary #1 New York Times bestseller from Tom Clancy.

At the climax of Debt of Honor, the most devastating terrorist act in the history of the world left the President, the Joint Chiefs, the Supreme Court, and nearly all of Congress dead. Only Jack Ryan, confirmed Vice President mere minutes before, survived to take the reins of a shaken and leaderless country. Now he must rebuild a government, comfort a grieving nation, and become a true leader. Meanwhile, he is surrounded by enemies—both inside the White House and around the world—all of them plotting to destroy an untested President. And bring an already wounded country to its knees....
Hardcover/Very Good