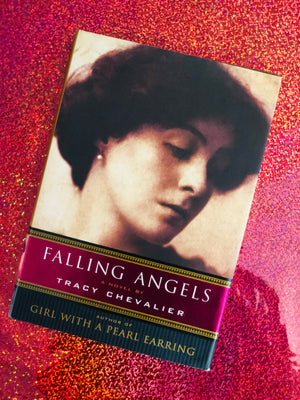 Falling Angels by Tracy Chevalier
A New York Times bestseller

From the author of the international bestseller Girl With A Pearl Earring and At the Edge of the Orchard, Tracy Chevalier once again paints a distant age with a rich and provocative palette of characters.

Falling Angels follows the fortunes of two families in the emerging years of the twentieth century in England, while the Queen's death reverberates through a changing nation. Told through a variety of shifting perspectives—wives and husbands, friends and lovers, masters and their servants, and a gravedigger's son—Falling Angels is graced with the luminous imagery that distinguished Girl With a Pearl Earring, Falling Angels is another dazzling tour de force from this "master of voices" (The New York Times Book Review).
Condition: Good/Hardcover