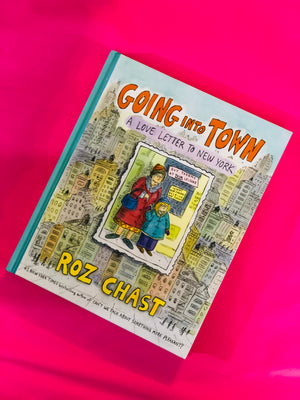 Going Into Town, A Love Letter To New York by Roz Chast
Washington Post "10 Best Graphic Novels of the Year"
New York Magazine "The Year's Most Giftable Coffee Table Books"
Newsday "Best Fall Books"
The Verge "The Ten Best Comics of the Year"
An Indie Next Pick
Winner of the New York City Book Award

From the #1 NYT bestselling author of Can't We Talk About Something More Pleasant?, Roz Chast, an "absolutely laugh-out-loud hysterical" (AP) illustrated ode/guide/thank-you to Manhattan.

New Yorker cartoonist and NYT bestselling author Roz Chast, native Brooklynite-turned-suburban commuter deemed the quintessential New Yorker, has always been intensely alive to the glorious spectacle that is Manhattan--the daily clash of sidewalk racers and dawdlers; the fascinating range of dress codes; and the priceless, nutty outbursts of souls from all walks of life.

For Chast, adjusting to life outside the city was surreal--(you can own trees!? you have to drive!?)--but she recognized that the reverse was true for her kids. On trips into town, they would marvel at the strange visual world of Manhattan--its blackened sidewalk gum-wads, "those West Side Story-things" (fire escapes)--and its crazily honeycombed systems and grids.

Told through Chast's singularly zany, laugh-out-loud, touching, and true cartoons, Going Into Town is part New York stories (the "overheard and overseen" of the island borough), part personal and practical guide to walking, talking, renting, and venting--an irresistible, one-of-a-kind love letter to the city.
Condition: Very good/Hardcover