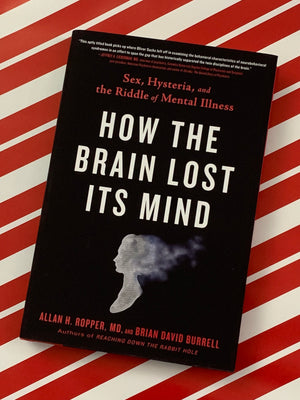 How the Brain Lost It's Mind- By Allan H. Ropper, MD and Brian David Burrell
A noted neurologist challenges widespread misunderstandings about brain disease and mental illness.

Why do we think of mental illness as a brain disease? Is there a difference between a sick mind and a sick brain? How the Brain Lost Its Mind, written by a prominent neurologist and a student of medical history, traces the origins of our ideas about insanity and the collision course that simply reduces the mind to the connections between nerve cells. Starting with syphilis of the brain, the disease that made insanity a medical problem and started the field of psychiatry, the authors study a host of famous and infamous characters--among them van Gogh, the Marquis de Sade, Nietzsche, Guy de Maupassant, and Al Capone.

How the Brain Lost Its Mind explains how we have twisted ourselves into the medicalization of every minor mood and thought, each with a pill to cure the psychopathology of ordinary daily life. How are we to understand serious disorders such as schizophrenia and Tourette's syndrome, in which the brain under the microscope is entirely normal? By delving into an overlooked history, this book shows how neuroscience and brain scans alone cannot account for a robust mental life, or a deeply disturbed one.
Hardcover/ Like New