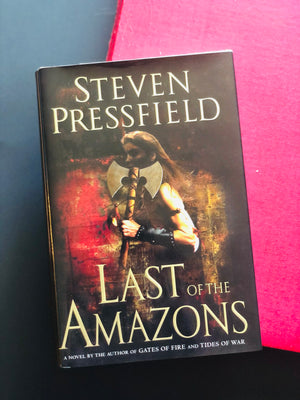 Last of the Amazons by Steven Pressfield
The author of the international bestsellers Gates of Fire and Tides of War delivers his most gripping and imaginative novel of the ancient world–a stunning epic of love and war that breathes life into the grand myth of the ferocious female warrior culture of the Amazons.

Steven Pressfield has gained a passionate worldwide following for his magnificent novels of ancient Greece, Gates of Fire and Tides of War. In Last of the Amazons, Pressfield has surpassed himself, re-creating a vanished world in a brilliant novel that will delight his loyal readers and bring legions more to his singular and powerful restoration of the past. 

In the time before Homer, the legendary Theseus, King of Athens (an actual historical figure), set sail on a journey that brought him into the land of tal Kyrte, the "free people," a nation of proud female warriors whom the Greeks called "Amazons." The Amazons, bound to each other as lovers as well as fighters, distrusted the Greeks, with their boastful talk of "civilization." So when the great war queen Antiope fell in love with Theseus and fled with the Greeks, the mighty Amazon nation rose up in rage. 
Condition: Like new/Hardcover
Fiction