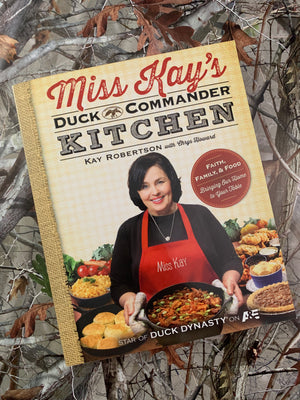 Miss Kay's Duck Commander Kitchen- By Kay Robertson
Miss Kay has been cooking since she was a little girl, and has perfected her skills through years of practice. Since family is so important to the Robertson clan, the stars of the hit TV series Duck Dynasty, this cook book is organized around family members and the friends they love.

Packed with more than 100 great recipes - from crawfish pie and sausage gumbo to banana pudding and buttery biscuits, many of them illustrated in full color - this is the perfect introduction to Southern-style cuisine. The recipes will also be accompanied by tales from around the kitchen table and insider stories from the Robertson family, including the favorite meals of all the gang. It builds up to the perfect package for anyone who wants to bring a bit of backwoods country food and drink to their home - a heartwarming, mouthwatering treat.
Softcover/Like New