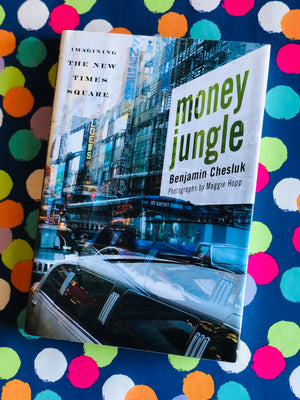 Money Jungle By Benjamin Chesluk
For more than a century, Times Square has mesmerized the world with the spectacle of its dazzling supersigns, its theaters, and its often-seedy nightlife. New York City's iconic crossroads has drawn crowds of revelers, thrill-seekers, and other urban denizens, not to mention lavish outpourings of advertising and development money.

Many have hotly debated the recent transformation of this legendary intersection, with voices typically falling into two opposing camps. Some applaud a blighted red-light district becoming a big-budget, mainstream destination. Others lament an urban zone of lawless possibility being replaced by a Disneyfied, theme-park version of New York. In Money Jungle, Benjamin Chesluk shows that what is really at stake in Times Square are fundamental questions about city life—questions of power, pleasure, and what it means to be a citizen in contemporary urban space. 
Condition: Very good/Hardcover
Non-Fiction