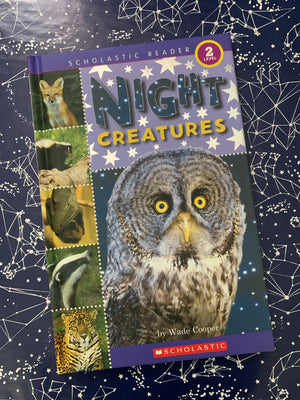 Night Creatures- By Wade Cooper
Fabulous photographs, eye-catching design, and simple rhyming text constitute this Level 2 reader about nocturnal animals! Now in paperback with foil on the cover!

"My fur is long and black and white.
I walk in gardens late at night.
If you scare me, I will spray
a stinky smell. So stay away!"

Children learn about skunks, owls, moths, bats, foxes, jaguars, bush babies, badgers, and kangaroos. The text is written in easy-to-read rhymes and is illustrated with irresistible photographs. Three pages of fun learning activities are designed to both challenge and entertain new readers.
Hardcover/Like New