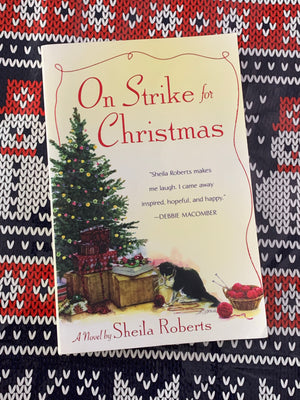 On Strike for Christmas- By Sheila Roberts
At Christmastime, it seems as though a woman's work is never done. Trimming the tree, mailing the cards, schlepping to the mall, the endless wrapping—bah humbug! So this year, Joy and Laura and the rest of their knitting group decide to go on strike. If their husbands and families want a nice holiday—filled with parties, decorations, and presents—well, they'll just have to do it themselves. The boycott soon takes on a life of its own when a reporter picks up the story and more women join in. But as Christmas Day approaches, Joy, Laura, and their husbands confront larger issues in their marriages and discover that a little holiday magic is exactly what they need to come together.

Sheila Roberts gives the best gift of all in On Strike for Christmas, a funny, heartwarming novel that touches the very core of Christmas spirit.
Softcover/Like New