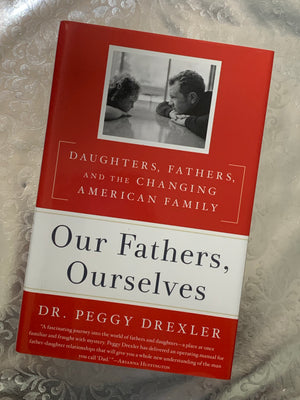 Our Fathers, Ourselves- By Dr. Peggy Drexler
There's no denying that a woman's relationship with her father is one of the most important in her life. And there's also no getting around how the quality of that relationship--good, bad, or otherwise--profoundly affects daughters in a multitude of ways.
In Our Fathers, Ourselves, research psychologist, author and scholar Dr. Peggy Drexler examines the ways in which the father-daughter bond impacts women and offers helpful advice for creating a better, stronger, more rewarding relationship. Through her extensive research and interviews with women, Dr. Drexler paints an intimate, timely portrait of the modern father-daughter relationship.
Women today are increasingly looking to their dads for a less-than-traditional bond, but one that still stands the test of time and provides support, respect, and guidance for the lives they lead today. Our Fathers, Ourselves is essential reading for any woman who has ever wondered how she could forge a closer connection with and gain a deeper understanding of her father.
Hardcover/ Very Good