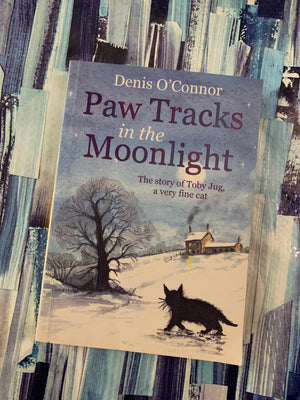 Paw Tracks in the Moonlight- By Denis O'Connor
When Denis O'Connor rescues a three-week-old kitten from certain death during a snowstorm, little does he know how this tiny creature will change his life forever. Against all odds the kitten - who he names Toby Jug - survives and forms an unusually strong bond with his rescuer.

Set against the rural splendour of Northumberland, "Paw Tracks in the Moonlight" charmingly chronicles the adventures of one man and his Maine Coone cat. From an invasion of bees at Owl Cottage to the case of the disappearing tomatoes, life with Toby Jug - who believes himself to be human - is never dull. Nevertheless, it is only when Denis and Toby Jug embark on a summer camping trip on horseback in the Cheviot Hills that a new world opens up for them both.
Softcover/Very Good (one crease in cover)