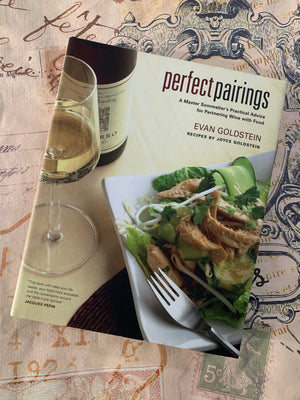 Perfect Pairings: A Master Sommelier's Practical Advice for Partnering Wine and Food- By Evan Goldstein
As thousands of wines from around the globe enter the marketplace and the American palate continues to adopt flavors from a range of cultures, the task of pairing wine and food becomes increasingly complicated. No longer is the choice simply red or white, or wines from California, France, or Italy. The typical shopper today has access to wines from those regions plus South Africa, Chile, Argentina, New Zealand, and Australia. If that isn't confusing enough, Asian, Creole, and Latin American dishes might find their way onto the same table. Perfect Pairings, by well-known Master Sommelier and respected restaurant industry veteran Evan Goldstein, provides straightforward, practical advice for how to pair wine with each meal. The quintessential resource for matching wine and food, Perfect Pairings acts as a guide to wine, wine terminology, and wine-growing regions as well as a cooking guide: this versatile coffee table book includes 58 companion recipes developed by celebrated chef Joyce Goldstein that showcase each type of wine.

Perfect Pairings combines in-depth explorations of twelve grape varietals, sparkling wines, and dessert wines with guidance about foods that enhance the wide range of styles for each varietal. Whether the Chardonnay is earthy and flinty, or rich, buttery, and oak-infused; whether the Pinot Noir fruity and tropical, or aged and mature, Goldstein explains how to match it with dishes that will make the wine sing. His clear, educational, and entertaining approach towards intimidating gastronomical questions provides information for all readers, professional and amateur chefs alike.
Hardcover/Like New