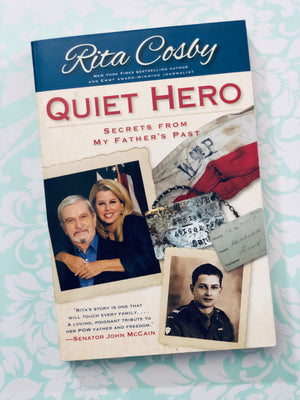 Quiet Hero, Secrets from my Father's past by Rita Cosby
When a father reveals his haunting past, a daughter takes an incredible journey of self-discovery . . .

Emmy® award–winning journalist, TV host, and New York Times bestselling author Rita Cosby has always asked the tough questions in her interviews with the world's top newsmakers. Now, in a compelling and powerful memoir, she reveals how she uncovered an amazing personal story of heroism and courage, the untold secrets of a man she has known all her life: her father.

Years after her mother's tragic death, Rita finally nerved herself to sort through her mother's stored belongings, never dreaming what a dramatic story was waiting for her. Opening a battered tan suitcase, she discovered it belonged to her father—the enigmatic man who had divorced her mother and left when Rita was still a teenager...
Condition: Good/Paperback (Front cover has a small dent) good condition otherwise