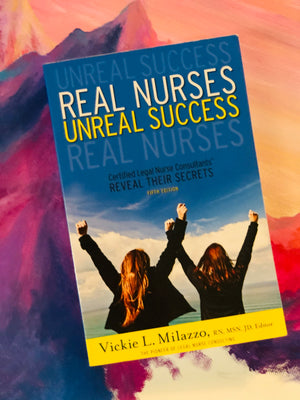 Real Nurses Unreal Success- by Vickie L. Milazzo
Certified Legal Nurse Consultants Reveal Their Secrets -- Use Their Tips and Strategies to Create Your Own CLNC Success Story!
Since 1982, thousands of registered nurses have transformed their careers to become prosperous Certified Legal Nurse Consultants. In this new fifth edition of 
CLNC Success Stories
, RNs share their personal stories of how they succeeded beyond their wildest dreams. You'll discover how to: 
12 Things Nursing Taught You about Owning a Business
Take the Fast Track to Financial Freedom
Use Vickie's Proven Strategies for Your Own CLNC Success
Triumph Over Any Personal Challenge
Make More Than a Living, Make a Difference
Take 5 Simple Steps to Launch Your CLNC Career
This book is your inside look at the dramatic journeys to freedom and financial independence achieved by Vickie Milazzo Institute graduates. These RNs did it with the proven CLNC Certification Program and you can too.
Condition: Very good/Paperback 
Non-Fiction