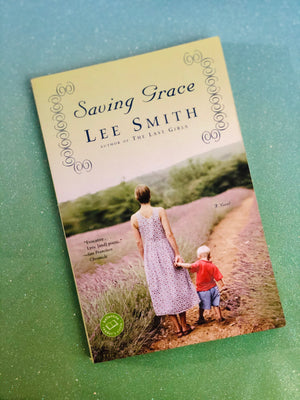 Saving Grace by Lee Smith
"LUCID IN EXECUTION, BREATHTAKING IN SCOPE AND HEART-RENDING IN EFFECT--A REDEMPTIVE WORK OF ART. . . . Lee Smith has done more than write another novel about the South. She has broken through the grotesque surface to the underground spring, the music of Scrabble Creek, and the effect is stunning--a beguiling, gentle prose formed by an honesty so severe we are brought to our knees. . . . This novel has a grand and singular purpose, to clothe the spirit with flesh. In this, Lee Smith succeeds."
--The Washington Post Book World
"A compelling journey into all matters southern and spiritual . . . . Set in North Carolina and Tennessee, we follow young Grace Shepherd from a cabin in the bucolic poverty of Scrabble Creek to independence as a single woman. Stops along the way include seduction by a half-brother, a failed marriage, motherhood, the loss of her son, residence in the aptly-named Creekside apartments in Knoxville and a job waitressing. . . . While Grace's path may be a journey many of us would not choose to undertake, we have to raise a small fist of jubilance to Grace for having survived."
Condition: Very good/Paperback
Novel