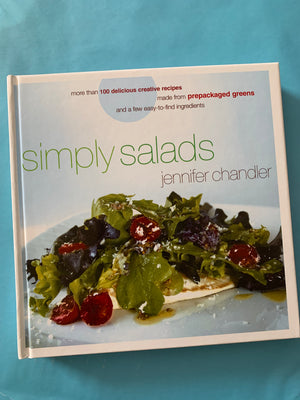 Simply Salads- By Jennifer Chandler
With the abundance of supermarket selections of prepackaged greens, you can create a restaurant-style salad along with a fabulous dressing in your own kitchen easier than ever.
Before bagged blends, a salad with four different types of lettuces was unheard of. Now there are more than fifty different combinations of lettuces, packaged in just the right size, from which to choose. Think beyond iceberg and romaine.
Chef and author Jennifer Chandler shows off more than one hundred salads and dressings that are colorful, gourmet, and surprisingly simple to prepare.
In Simply Salads, Chandler shares scrumptious salad recipes such as:
Asian Salad with Ginger Dressing and Wasabi Peas
Jalapeño Chicken Salad with Avocado Dressing
Crawfish Salad with Spicy Cajun Remoulade
Cheese Tortellini Salad with Sun-Dried Tomato Vinaigrette
Memphis Mustard Cole Slaw
Whether you're looking for the perfect complement to a main dish or you want a salad that can stand as an entrée, you'll find the perfect salad within Simply Salads.
You've always known eating greens are healthy and now, making healthy salads have never been easier.
Hardcover/Like New