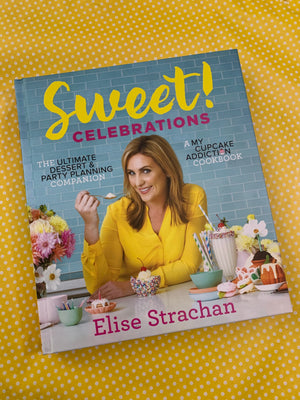 Sweet! Celebrations: The Ultimate Dessert & Party Planning Companion- By Elise Strachan
The creator and host of My Cupcake Addiction—one of the world's most widely viewed online baking shows—shares her most dazzling and delicious dessert recipes and ingenious entertaining tips so you can throw the perfect party.

Whether you're putting together a simple snack or an over-the-top extravaganza, bringing sweets to the office or planning a trick-or-treat to be remembered, Sweet! Celebrations will be your go-to book in the kitchen.

Organized around special occasions throughout the year—from Valentine's Day to Christmas—the book includes Elise's favorite recipes for a rustic wedding, a game-day celebration, an elegant afternoon tea, a colorful children's birthday bash, and many more. Get the party started with the centerpiece cake—such as a Jack O' Lantern Smash Cake or whimsical Tree Stump Cake—and pair it with Elise's tasty drinks. Her easy, innovative small bakes and "no bake" options are great for filling out your display and giving every get-together that extra "wow" factor.

You'll find beautiful double-page photos of each theme party and step-by-step photographs that make decorating gorgeous cakes easy—even for beginners.

Using the same accessible approach that has drawn millions of followers to My Cupcake Addiction, Elise's cherished recipes for classic cakes, frostings, and toppings will make any novice baker feel like a pro.
Hardcover/Like New