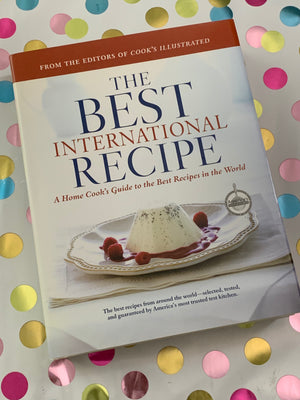 The Best International Recipe: A Home Cook's Guide to the Best Recipes- By The Editors of Cook's Illustrated
Tired of complicated ethnic dishes with hard-to-find ingredients or recipes for classic European dishes that require a year of cooking school to master? We were. Here are more than 300 foolproof recipes that demystify the world's greatest dishes.

For the landmark classic The Best Recipe, America's Test Kitchen developed the best versions of homespun favorites like macaroni and cheese, pot roast, blueberry muffins, and more. In The Best International Recipe, the test kitchen travels father afield to bring you the best and most exciting cooking from around the world. The more than 300 recipes have been tested dozens of times to ensure success in the kitchen.

Throughout The Best International Recipe, you'll find features that make this collection especially home cook friendly: Pantry spotlights offer clear explanations of ingredients and what to look for, and in some cases, what you can substitute without compromising flavor. Specialty equipment (and substitutions) are highlighted as well, so you won't waste money on equipment you don't really need (hint: You don't need a paella pan to make paella). Core techniques highlighted throughout the book explain essential methods that you can apply to all of your cooking, such as getting the most from spices and a method for making buttery tart dough that won't leave you feeling frustrated.

Whether you want to make spicy pork tacos to rival those found on the tables of Mexico or learn how to make chicken as juicy as the French, The Best International Recipe is your essential guide to the best cooking from around the world.
Hardcover/Like New