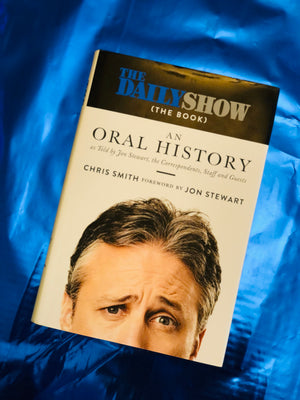 The Daily Show ( The Book)
The complete, uncensored history of the award-winning The Daily Show with Jon Stewart, as told by its correspondents, writers, and host.

For almost seventeen years, The Daily Show with Jon Stewart brilliantly redefined the borders between television comedy, political satire, and opinionated news coverage. It launched the careers of some of today's most significant comedians, highlighted the hypocrisies of the powerful, and garnered 23 Emmys. Now the show's behind-the-scenes gags, controversies, and camaraderie will be chronicled by the players themselves, from legendary host Jon Stewart to the star cast members and writers-including Samantha Bee, Stephen Colbert, John Oliver, Steve Carell, Lewis Black, Jessica Williams, John Hodgman, and Larry Wilmore-plus some of The Daily Show's most prominent guests and adversaries: John and Cindy McCain, Glenn Beck, Tucker Carlson, and many more. 
Condition: Like new/Hardcover
Non-Fiction