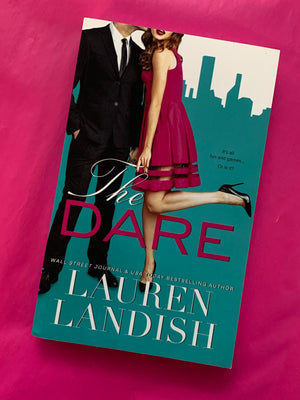 The Dare- By Lauren Landish
Have you ever had one of those really bad days at work?
You know, one where your hot boss catches you photocopying your backside in his office?
No? Just me then?

I blame my bestie and partner in chaos.
She challenged me with a not-so-innocent dare that I should've flat out declined.

But I'm an adrenaline junkie, and now, here I am.
I know it sounds crazy, and daredevil tendencies aside, I definitely went too far to get his attention.

But you haven't seen him.
Colton Wolfe. My boss.
Tall, dark, and handsome, with the sexiest British accent I've ever heard.
His only flaw? That he's completely oblivious to what's been right in front of him all along.
Me.

Well, he was until a few minutes ago.
Remember those good old days?
Before I got caught making "nice" with the copy machine, and before I was totally getting fired?

But wait. Maybe I'm not.
If I can take on the biggest dare of all.
Making Colton Wolfe fall in love with me.


The Dare is a full-length romance with a HEA and no cliffhanger.
Softcover/ Like New