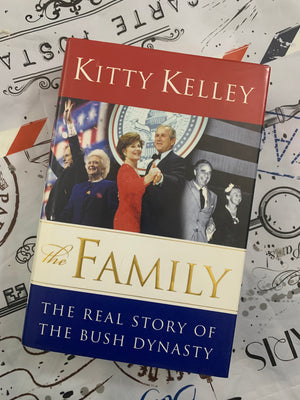 The Family: The Real Story of the Bush Dynasty- By Kitty Kelley
They have wielded enormous financial power and dominated world politics for more than half a century. They have been appointed to positions of great power and have been elected as governors, congressmen, senators and presidents. They have shaped our past and, with our country at war under the leadership of their number one son, they are, more critically than ever, shaping our future.

As the Bush family has risen to dominance, so too they have been master orchestrators of their own public image, acting and operating under the shield of privacy their money and status have always afforded them. Until now.

Number One bestselling author and investigative biographer Kitty Kelley has closely examined the lives of Jacqueline Onassis, Nancy Reagan, Frank Sinatra, and the British Royal family. Now the First Lady of unauthorized biography reckons with the first family of the United States—and the result is at once a rich and shocking history and a very human portrait of the world's most powerful dynasty.

An important work on wealth, power, and class in America, The Family is rich in texture, probing in its psychological insight, revealing in its political and financial detail, and stunning in the patterns that emerge and expose the Bush dynasty as it has never before been exposed. Ms. Kelley takes us back to the origins of the family fortune in the Ohio steel industry at the turn of the last century, through the oil deals and international business associations that have maintained and increased their wealth over the past hundred years. The book leads us through Prescott Bush's first entrée into government at the state level in 1950s' Connecticut, to George Herbert Walker Bush's long and winding road to the White House, to his son's quick sweep into the same office. Along the way, we see the complex relationships the Bushes have had with the giants of the century—Eisenhower, Nixon, Joseph McCarthy, Kissinger, Reagan, Clinton—as well as the often ruthless methods used to realize their goals.

Perhaps most impressive—and surprising—is the way the book delves behind the obsessively protected public image into the family's intimate private lives: the matriarchs, the mistresses, the marriages, the divorces, the jealousies, the hypocrisies, the golden children, and the black sheep.

At a crucial point in American history, Kitty Kelley is the one person to finally tell all about the family that has, perhaps more than any other, defined our role in the modern world. This is the book the Bushes don't want you to read. This is The Family.
Hardcover/Very Good