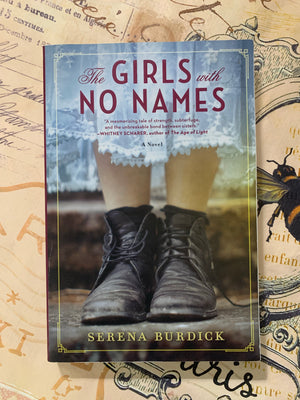 The Girls with No Names- By Serena Burdick
A beautiful tale of hope, courage, and sisterhood—inspired by the real House of Mercy and the girls confined there for daring to break the rules.

Growing up in New York City in the 1910s, Luella and Effie Tildon realize that even as wealthy young women, their freedoms come with limits. But when the sisters discover a shocking secret about their father, Luella, the brazen elder sister, becomes emboldened to do as she pleases. Her rebellion comes with consequences, and one morning Luella is mysteriously gone.

Effie suspects her father has sent Luella to the House of Mercy and hatches a plan to get herself committed to save her sister. But she made a miscalculation, and with no one to believe her story, Effie's own escape seems impossible—unless she can trust an enigmatic girl named Mable. As their fates entwine, Mable and Effie must rely on their tenuous friendship to survive.
Softcover/Very Good