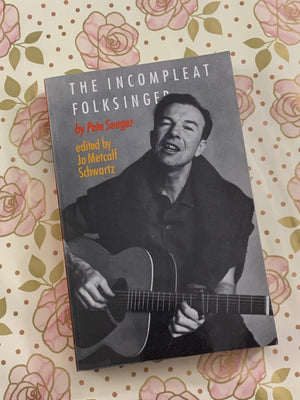 The Incompleat Folksinger- By Pete Seeger
Pete Seeger has sung as courageously as anyone has ever spoken, always in defense of the poor, the oppressed, and the exploited. His songs have enriched his life and his life has filled his songs with every emotion dear to the soul. But his deep understanding of sorrow and injustice have not spoiled a single note. He sings to enliven and encourage, to delight and tell tales. He snatches the riches of folksinging from as many sources as he can find and gives them freely and gladly to any audience that cares to listen.
Decades of work and travel have made him famous but he remains forever in tune with the folk. He describes his friends and inspirations, his conflicts with the bosses and the government, his favorite songs, stories, and instruments, and the kind of learning that comes from listening carefully. "Any fool can get complicated," he writes. "We are born in simplicity but die of complications."
Softcover/ Very Good