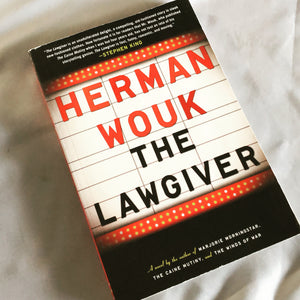 The lawgiver- by Herman Wouk
A romantic and suspenseful epistolary novel about a group of people trying to make a movie about Moses in the present day, The Lawgiver is a story that emerges from letters, memos, e-mails, journals, news articles, Skype transcripts, and text messages. 

At the center of The Lawgiver is Margo Solovei, a brilliant young writer-director who has rejected her rabbinical father's strict Jewish upbringing to pursue a career in the arts. When an Australian multibillionaire promises to finance a movie about Moses, Margo does everything she can to land the job, including reunite with her estranged first love, an influential lawyer with whom she still has unfinished business. Two other key characters in the novel are Herman Wouk himself and his wife of more than sixty years, Betty Sarah, who, almost against their will, find themselves entangled in the movie.
Condition: Good/Hardcover 
Novel