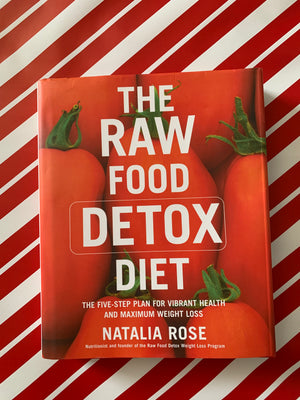 The Raw Food Detox Diet- By Natalia Rose
A top nutritionist provides her simple, proven five-level diet plan to safely make the transition to eating raw foods, and to detoxify and achieve a perfect body no matter how you eat now.
The raw food craze has taken off, as raw restaurants spring up and celebrities, models, and other fans tout the effects of eating raw. However, many people who are intrigued by raw food simply don't know how to make the transition from what they're eating now, or how to achieve the benefits of eating raw without giving up their lifestyle or the foods they love. Natalia Rose, an in-demand nutritionist, shows how in The Raw Food Detox Diet. Whether your diet is primarily made up of meat and potatoes, or tofu and tempeh, you can incorporate the flavour and lasting health benefits of raw food into your life.
Over time, our bodies build up poisons and store waste from food that is not fully eliminated. Raw food helps to detoxify the body by flushing out these poisons and setting us back on a course toward greater energy, clearer skin and shinier hair, and a slim, natural figure. But making the transition to a raw diet too quickly can have negative effects on the body. Instead, the healthier way is to make a gentle change based on your previous diet and current needs. You do not conform to The Raw Food Detox Diet; it conforms to you, and you choose how far you want to go. Whether you're looking to live an all-raw lifestyle, or just to improve your energy and shape while still eating the foods you love, this groundbreaking diet book will energize and inspire you to achieve your goals safely and easily.
Hardcover/ Very Good