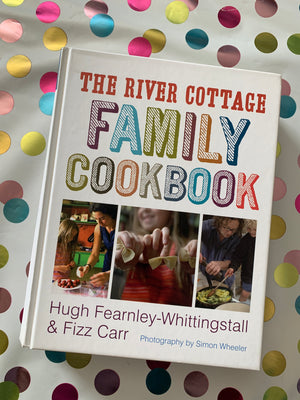 The River Cottage Family Cookbook- By Hugh Fearnley-Whittingstall & Fizz Carr
A distinctly educational cooking primer for the whole family with more than 100 recipes that can be made by children.

The latest addition to the best-selling RIVER COTTAGE cookbook series inspires the entire family to venture into the kitchen to prepare delicious, wholesome food together. THE RIVER COTTAGE FAMILY COOKBOOK features a comprehensive repertoire of more than 100 recipes and kitchen projects that cooks of all ages will enjoy: making butter, curing bacon, planting a kitchen garden, and more. This complete cookbook will show kids how quality ingredients are produced, while teaching lifelong lessons about meaningful cooking and eating.
Hardcover/Very Good