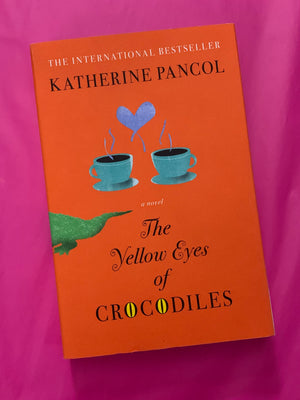 The Yellow Eyes of Crocodiles- By Katherine Pancol
'...a clear-eyed, warmly funny tale.' Kirkus Reviews

This novel is the story of a lie. But it is also a story of laughter and tears, of life itself.

When her chronically unemployed husband runs off to start a crocodile farm in Kenya with his mistress, Josephine Cortes is left in an unhappy state of affairs. The mother of two is forced to make ends meet on her meagre salary as a medieval history scholar.

Meanwhile, Josephine's charismatic sister Iris seems to have it all - a wealthy husband, gorgeous looks, and a tres chic Paris address-but secretly she dreams of bringing meaning back into her life.

And then a dinner party changes the sisters' destinies.

Iris is seated next to a famous book publisher to whom she spins a tale of the 12th century romance she's writing. When Iris charms him into offering her a lucrative deal for her book, she offers her sister a deal of her own: Josephine will write the novel and pocket all the proceeds, but the book will be published under Iris's name.

All is well - until the book becomes the literary sensation of the season...
Softcover/Like New