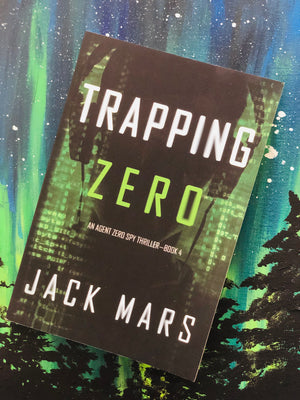 Trapping Zero, An agent Zero Spy Thriller-Book 4
"You will not sleep until you are finished with AGENT ZERO. A superb job creating a set of characters who are fully developed and very much enjoyable. The description of the action scenes transport us into a reality that is almost like sitting in a movie theater with surround sound and 3D (it would make an incredible Hollywood movie). I can hardly wait for the sequel."
--Roberto Mattos, Books and Movie Reviews

In TRAPPING ZERO (Book #4), a terrorist cell in the Mideast gains a new, fanatic leader, one intent on orchestrating what would be the deadliest attack on American soil. Can Agent Zero uncover the plot and stop him in time?

Although Agent Zero's daughters are home safely, the mental anguish from their experience weighs heavy on their small family. Zero, working to be a good father and to repair the damage, decides the time has come to undergo surgery to regain all of his memories. But will it work?

In the midst of it all, he is again thrust into the line of duty as a U.S. embassy is destroyed in the Mideast and as an experimental new weapon is uncovered. But without his memories, with some of his own CIA allies intent on his destruction, who can he really trust?

TRAPPING ZERO (Book #4) is an un-putdownable espionage thriller that will keep you turning pages late into the night.

Condition: Good/Paperback