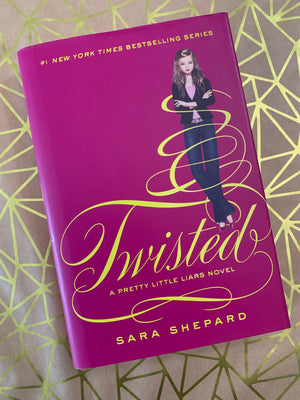 Twisted: A Pretty Little Liars Novel 9- By Sara Shepard
The ninth book in the #1 New York Times bestselling series that inspired the hit ABC Family TV show Pretty Little Liars.
It's been a year since the mystery of their former friend's disappearance was finally laid to rest, and Aria, Spencer, Hanna, and Emily have worked hard to put their lives back together. Now seniors in high school, the pretty little liars are older, but they're not any wiser. Last spring break in Jamaica, they did something unforgivable. The girls are desperate to forget that fateful night, but they should know by now that all secrets eventually wash ashore.
Full of unexpected twists and shocking revelations, Twisted is the ninth book in New York Times bestselling author Sara Shepard's compelling Pretty Little Liars series. 
Hardcover/ Very Good