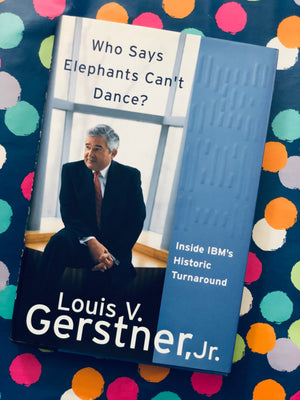 Who Says Elephants Can't Dance? by Louis V. Gerstner, jr.
In 1990, IBM had its most profitable year ever. By 1993, the computer industry had changed so rapidly the company was on its way to losing $16 billion and IBM was on a watch list for extinction -- victimized by its own lumbering size, an insular corporate culture, and the PC era IBM had itself helped invent.

Then Lou Gerstner was brought in to run IBM. Almost everyone watching the rapid demise of this American icon presumed Gerstner had joined IBM to preside over its continued dissolution into a confederation of autonomous business units. This strategy, well underway when he arrived, would have effectively eliminated the corporation that had invented many of the industry's most important technologies.

Instead, Gerstner took hold of the company and demanded the managers work together to re-establish IBM's mission as a customer-focused provider of computing solutions. Moving ahead of his critics, Gerstner made the hold decision to keep the company together, slash prices on his core product to keep the company competitive, and almost defiantly announced, "The last thing IBM needs right now is a vision."

Who Says Elephants Can't Dance? tells the story of IBM's competitive and cultural transformation. In his own words, Gerstner offers a blow-by-blow account of his arrival at the company and his campaign to rebuild the leadership team and give the workforce a renewed sense of purpose. In the process, Gerstner defined a strategy for the computing giant and remade the ossified culture bred by the company's own success.
Condition: Like new/Hardcover