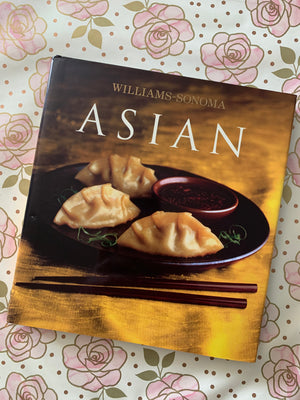 Brimming with vivid scents and spice-laden flavors, Asian cooking includes a vast range of culinary styles and ingredients. From sizzling Korean barbecued beef with tantalizing dipping sauce to steaming Thai shrimp and lemongrass soup and fragrant Indian chicken curry, the variety of Asian dishes is endlessly intriguing.

Williams-Sonoma Collection Asian offers an array of more than 40 recipes, from well-loved classics to popular new ideas, designed for home cooks of all levels. To please a crowd, choose from among small plates such as tempting grilled chicken satay with peanut dipping sauce or golden deep-fried samosas. For main courses, try a classic pairing of beef and broccoli with oyster sauce or stir-fried pork and black bean sauce. Tempting treats from the dessert chapter, such as sweet rice with mangoes or tapioca with coconut cream, make a refreshing finish. For easy suppers or entertaining with flair, there is a recipe in these pages perfect for any occasion.

Full-color photographs of each dish help you decide which one to prepare, and each recipe is accompanied by a photographic side note that explains a key ingredient or technique. Along with a comprehensive basics section and extensive glossary, the simple recipes in this book will help you capture the best of this vibrant cuisine.
Hardcover/Very Good